School/Library Visits
Invite me to speak, and I'll chat with your students about writing, revising, and my experiences working with a publisher.
I'll show your group the rejections I got before selling my manuscript and the many pages of editorial notes I got afterwards. Plus, I'll bring my foam swords to wave around (see pic below) and foam swords make any presentation even more interesting. 
PROGRAM: My interactive program includes some behind the flap information about writing and working as an author as well as some fun and games with editing and revising. I think students (and teachers) enjoy the show because it gives them a feel for my books and because they learn some about the writing business. The program also has a good underlying message about taking criticism.
RECOMMENDED AUDIENCE: 3rd-8th grade. Both my program and my books are appropriate for ages 8 and up. My books skew slightly toward upper middle-grade, so I'd say 4th-6th is the sweet spot. The program is flexible enough for small or large groups. I've spoken to groups as small as 10-15 students to groups as large as 600, and to grades third and higher.
REQUIREMENTS: For an in-person visit, I'll need a projector and a screen. In a larger space, it is also handy to have a microphone. Cards like those above are never expected, but they certainly give me a wonderful warm and fuzzy feeling when I receive them.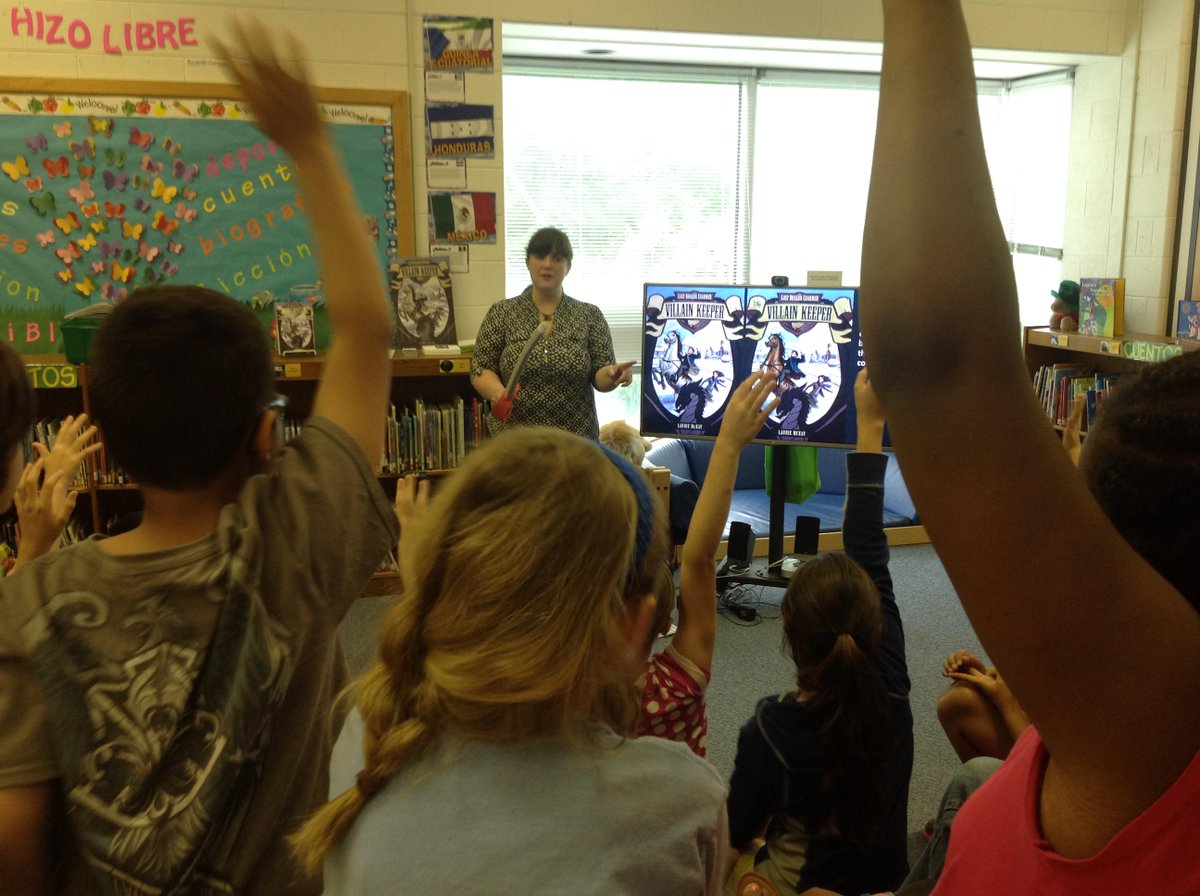 PROGRAM OPTIONS: I'm happy to do programs in person or via SKYPE. My most popular program is my writing and revising, fun and games presentation.
I also have a Flash Fiction Workshop available. The Flash Fiction Workshop works best with groups under fifty individuals.
I've done programs with other wonderful authors, too. If you'd be interested in a multi-author program, let me know and I'll see what's possible.
BOOKS! BOOKS! BOOKS! I'd be happy to sign and personalize books for the school and any students interested in buying copies. Oftentimes, I partner with a local bookstore for pre-sales. In my experience, having a time set aside to autograph books for students makes the visit even more special for the kids, and as an author its nice to get to say hello to some of the students one-to-one.
My first book VILLAIN KEEPER is available in paperback now which makes it more accessible to more students. My second book QUEST MAKER is available in hardcover. (The QUEST MAKER paperback will be available on Feb. 7th, 2017.) My books are available wherever books are sold.
A SHORT VIDEO: For your viewing pleasure, I've included a short video from one of my sessions with a group of about 200 sixth graders. We're playing a "Guess what the editor said?" game. Some of my graphics didn't display on the school's computer, but the students seemed enthralled anyway. (And I had a great time which is always important to me!)
MORE INFORMATION: For more information on a school visit, writing workshop, or skype visit, please contact me at lauriemckay(at)gmail(dot)com or connect with me on twitter at @MckayLL. I'm scheduling events for Fall 2016 now!